Vanessa Lam & the S.S.I.P.A.C.A.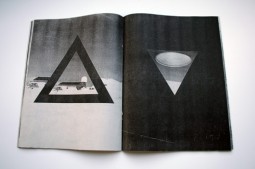 Yesterday I was graced with what Los Angeles designer, Vanessa Lam, calls an "infographic zine about UFOs." If you aren't familiar with Vanessa's work, you should visit vanessalam.net and prepare to be mesmerized by brilliant use of color and typography. Her work is outstanding.
The Society for Scientific Inquiry of Paranormal Atmospheric and Cosmic Anomalies piece is a 48-page newsprint publication chocked full of vintage black and white photography and great typography driven infographics. Just beautiful. Not to mention the inspiration for the zine is something just asking to get repurposed into something like this. Concept and execution are a delight.
Order the piece online here.
Add your comment
You must be logged in to post a comment.