You're Never Too Old to Be Creeped Out by Creepy Cartoons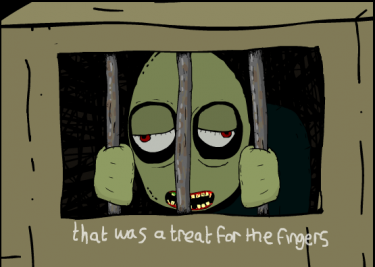 My nephew recently introduced me to a psychological horror cartoon called "Salad Fingers." Created by a young Englishman named David Firth, each Salad Fingers episode provides a short, five-minute snapshot into the life of a psychotic, androgynous and spine tinglingly crazy hunchback: carrying on with finger puppet friends (Jeremy Fisher, Marjory Stewart-Baxter and Hubert Cumberdale), eating dirt, talking to trees and dining with his dead brother Kenneth, who he finds buried in the backyard having come "back from the Great War." Next to a head-full of rotting, yellow teeth, Salad Fingers most notable features are his claw-like fingers, which he takes great pleasure in rubbing against rusty metal objects. "That was a treat for the fingers," Salad Fingers rattles in episode four after stroking the iron bars of a cage he finds himself in having been captured by a "big-eyed, grotesque, mutant creature" who eventually proposes to the captive Salad Fingers with a ring made from a human molar. Trust me, it's weirder than it sounds. The entire scene, including a bizarre vanishing act, could have been pulled straight out of David Lynch's twisted ear canal — wax, dirt and all. The cartoons are sparsely scored by folks like Brian Eno, Aphex Twin, Boards of Canada, Sigur Ros and Lustmord, which provides an eerie blanket in which to curl up. Visit fat-pie.com/salad.htm and watch your skin crawl.
Add your comment
You must be logged in to post a comment.