And How Was Your Free Comic Book Day?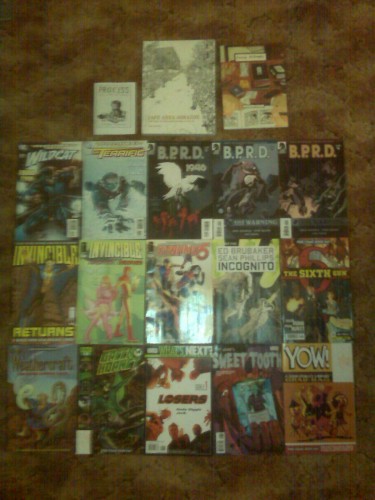 So, one week previous to today there was a beautiful thing going on in America that annually unifies the country to gawk all over the grandeur and pomp of a national pastime. That event is called The Kentucky Derby. While the creme of the country were gawking all over majestic horses and piss-drunk/rain soaked Everclear bootleggers, the rest of us were traveling to our local comic book shop for the official Nerd Christmas and picking up some free and non-free goodies.
I happen to live in northern Michigan in a tiny town with two and a half stop lights and is more known for its large Amish population than anything else. Unfortunately and obviously, I don't really have a great local shop within walking distance so I decided to check out the official FCBD website to see what was going on throughout the state of Michigan.  Luckily, I noticed that the incredible and wonderful Jeffrey Brown was going to be appearing at Detroit Comics. Even though it was about two and a half hours away I got one of my older brothers to come with me since I have been attempted to comic convert him for a while now. He flipped through my copy of Clumsy on the way down to Detroit and fell in love much in the same way that I did.
While we were there I picked up my two free comics and purchased a smattering of thirteen other issues as well as a copy of Joe Sacco's Safe Area Gorazde (which is unreal in its detail and writing). Some of the gems I found were Jim Woodring's Weathercraft (from Fantagraphics), Bunn/Hurtt's The Sixth Gun (from Oni Press), as well as some great titles from Incognito and Invincible Returns. To top it all off, when I got home there was a nice surprise of having received the five mini-comics I ordered from Emi Lenox! What a phenomenal day.
Oh by the way, did I mention that Jeffrey Brown is super-duper nice and defiled my sketchbook with this: