Vertigo's First Issue Classics FOR FREE!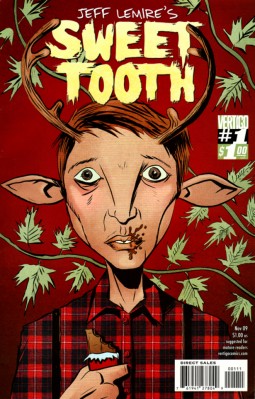 While pouring through the giant stack of comics I got during the FCBD festivities in Detroit, I noticed an add in The Losers "#1" for a free download of some Vertigo titles. I decided to check it out and found, much to my delight, that Vertigo (an imprint of the mighty DC Comics) is making the first issues of almost 40 of their celebrated titles available for FREE DOWNLOAD! We're not just talking about stinkers here either. This seems to be a marketing move full of gravitas since they are giving you free copies of some of the best comics out right now including heavyweights like Y: The Last Man, Transmetropolitan, 100 Bullets, Preacher, and Sweet Tooth. (WARNING: Many of these comics are intense and are for adults only.)
Since there are so many available here and not everyone has tons of disc space on their computer, I decided I would fulfill my destiny as the Comic Book Scapegoat and read through them all so you all have an idea what you are up against.
My favorite that they have available is hands-down Jeff Lemire's engrossing and perfectly nuanced Sweet Tooth. I first fell in love with Jeff Lemire's work when I read his brilliant Essex County collection, and was excited to see what he had up his sleeve for ST. Turns out, it was a lot. ST is part post-apocalyptic nightmare a la Mad Max, part sci-fi freakfest, and part Cormac McCarthy's version of a buddy story. That probably makes no sense, but that's ok because you can download it for free and find out for yourself why this is one of my favorite serial comics ever.
Other true gems (as many of you are probably aware) are 100 Bullets, Demo, Fables, Preacher, and Unknown Soldier. Go download a couple and find a new series that might be worth collecting. Chances are, you'll find something to love.
Add your comment
You must be logged in to post a comment.